Acorn and RISC OS Spares and Extras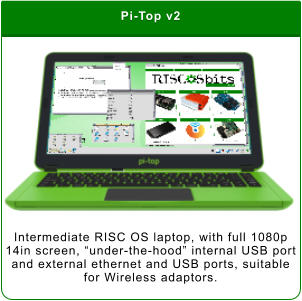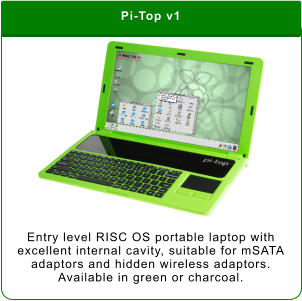 This is a lightly used Pi-Top v2, with it's much improved 1080p display, more comfortable keyboard and
a trackpad in the centre - where it belongs! It comes complete with PSU, a Raspberry Pi v3B+, and a
32GB RISC OS SD card containing a standard image, plus other extra useful software. RISC OS
control software can be obtained from CJE Micros. The internal USB port can host a variety of USB
drives - please contact us for the latest prices. A WispyV is recommended for use with the Pi-Top v2 to
add wireless capability to RISC OS. A full range of accessories, including USB drives, carry cases and
chargers can be supplied - contact for details.
The Pi-Top v2 costs just:
Standard -

£199
With WispyV -

£215
This is the premium RISC OS laptop solution to date. Looking just like a normal, slimline, svelte laptop, the
PineBook is capable of running both RISC OS and a number of variants of Linux on the same machine. The full
1080p HD IPS screen gives a stunning view in its compact 11.6in size while the software control for Big Mode
allows a double DPI zoom for the whole screen. The device switches from RISC OS to Linux by means of a
simple reboot without the 32GB microSD card in place. Whilst not yet fully developed for RISC OS, using Linux
gives the user access to wireless networking, whilst a USB-Ethernet adaptor is supplied, together with on-off
ethernet software for networking under RISC OS. Two external USB ports and an (as yet unused) HDMI port
compliment the overall connectivity. A full range of accessories, including high capacity micro SD cards, USB
drives, carry cases, chargers and different pre-installed Linux variants, can be supplied -
contact
for details.
These are very lightly used PineBooks, supplemented with RComp's RISC OS ROM and software package.
A rare chance to grab a LapDock with a Raspberry Pi Zero, all running RISC OS 5.27 out of the box. This kit
includes a UK-keyboard LapDock from Motorola (including UK charger), a microUSB cable for power and
data to the Pi Zero, and a micro HDMI to mini-HDMI adaptor cable. Includes Motorola leather case!
Just by connecting up the cables appropriately, the Pi Zero displays through the LapDock and uses the
LapDock's keyboard and mouse. Extra software is configured to allow the menu and adjust functions to work.
There is ONE REMAINING LapDock Zero available with UK keyboard. Please
contact
for details.

This is a previously cherished Pi-Top v1, carefully refurbished by RISCOSbits, complete with a
Raspberry Pi v3B+, and a 32GB RISC OS SD card containing a standard image, Pi-Top specific utilities
and other extra useful software. It also comes with a RISCOSbits Pi-Top Slice free of charge.
The standard RISC OS Pi-Top is the basic choice but it is possible to add either a WispyV Wireless
interface device or an mSATA drive carrier:
Standard -

£149
With bare mSATA adpator OR WispyV-

£165
Pi-Top v1
Pi-Top v2
PineBook 11
LapDock Zero
CPU
*1.4GHz
*1.4GHz
1.2GHz
*1GHz
RAM
*1GB
*1GB
2GB
*512MB
Screen Size
13.3in
14in
11.6in
11.6in
Screen Resolution
1366 x 768
1920 x 1080p
1920 x 1080p
1366 x 768
Screen Technology
LCD
LCD
IPS
External USB ports
4
2
2
2
Internal USB ports
0
1
0
0
Inbuilt Ethernet
* Yes
* Yes
No
No
Wireless networking
Linux - Yes
RISC OS - No
Linux - Yes
RISC OS - No
Linux - Yes
RISC OS - No ¤
Linux - Yes
RISC OS - No
Colours
Grey / Green
Green
White
Black
Linux Compatible
Raspbian
Raspbian
Various
Raspbian
RISC OS Storage
Micro SD
Micro SD
Micro SD
Micro SD

Additional Storage

Internal mSATA over USB
External USB
Internal USB
External USB
External USB
Internal eMMC for Linux
External USB

Battery

8hrs
8hrs
10hrs
8hrs

Software control -




screen brightness




battery monitoring




sound control

Free Pi-Top Utils from JASPP
Pi-Top Software - CJEMicros
Pi-Top Software - CJE Micros
Included with software pack
Built into device

Bonus accessories

RISC OS Slice
USB Ethernet adaptor
RComp Support Scheme
USB charger cable
Leather Motorola case
RISCOSbits Price
from £139
from £175
from £329
from £129
* Depends on model of Raspberry Pi used - these are current top specs at time of writing
¤ Currently in development



LIMITED EDITION Pi-Top v2 Clear Edition - only 100 ever made!
This is a very rare Limited Edition unused clear Pi-Top v2, with1080p display, more comfortable
keyboard and a trackpad in the centre - where it belongs! It comes complete with PSU, a Raspberry Pi
v3B+, and a 32GB RISC OS SD card containing a standard image, plus other extra useful software.
RISC OS control software can be obtained from CJE Micros. The internal USB port can host a variety of
USB drives - please contact us for the latest prices. A WispyV is recommended for use with the Pi-Top
v2 to add wireless capability to RISC OS. A full range of accessories, including USB drives, carry cases
and chargers can be supplied -
contact
for details.
The Clear Edition Pi-Top v2 costs just:
Standard -

£249
With WispyV -

£265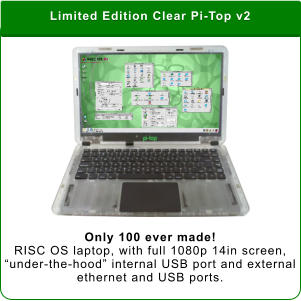 The PineBook Desk Set is a set of complimentary accessories that make your PineBook the RISC OS
workhorse you always wanted it to be:
•
Aluminium desk stand
•
Desktop charger with integrated USB Hub and 5v PSU
•
240GB external SSD
•
DVD Drive
•
Soft Carry Case
•
Clear Matte Skin